Guildford is a town rich in history with a Castle dating back to 1066, a Cathedral built in 1927 when the bricks used to build it cost a mere 12.5 pence, and a Museum that covers a wide range of topics including Archaeology, Needlework, Local History and Art in Guildford. All of these attractions in Guildford are open to the public and have minimal to no costs for entry.
Explore the Castle grounds, climbing to the top for panoramic views of Guildford, admire the contemporary architecture and stained glass windows of the Cathedral and uncover the daily life of Guildford residents spanning across the ages. Whether you're a visitor hoping to learn more about this county town of Surrey or a local that wishes to uncover the history of your fine surroundings, there is plenty to do, see and learn about in Guildford.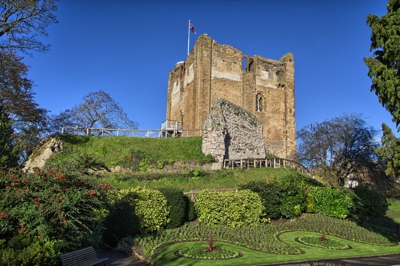 The partly restored Norman keep is open between March and October, although opening times should be checked in advance. A trip to the top of the keep provides excellent views across the town and surrounding countryside. The grounds are well maintained and include a pond, bowling green and ornamental gardens.
Perched on Stag Hill, adjacent to the university campus, the cathedral is an example of modern design utilising equally modern materials. Unlike many cathedrals, stained-glass windows are noticeably absent; almost all the windows are of plain glass, allowing natural light to flood the white interior. The cathedral is open every day, admission is free, and photography is permitted for personal use.
The Guildford Museum takes a look at the history of Guildford and the surrounding towns beginning from pre-historic times through to the 20th century. With over 75,000 different exhibits, the Museum covers Archaeology, Local History, Needlework and Art. Open Monday-Saturday with no admission charge, the Guildford Museum is great educational fun for the whole family.