Where: Guildford High Street
When: First Tuesday Of The Month
Time: 10:30 to 15:30
The Guildford Farmers' Market takes place on the famous High Street on the first Tuesday of every month (except for in the month of January) between 10.30am and 3.30pm. The market celebrated its 10th anniversary back in 2010 and has over 40 different local vendors from Guildford and further afield. Meats, cheeses, breads, vegetables, art work, jams & preserves, baked goods, fresh herbs, oils, teas and homemade drinks are just some of the things you'll find at this lovely local's farmers' market.
There is plenty of parking around the High Street. Some of the bigger and more accommodating locations nearby include Castle Car Park (GUI 3RW) on Town Path near to the Holy Trinity Church of England and Leapale Road Car Park (GU1 4JX) near the corner of College Road and Leapale Lane. There are a number of smaller car parks in the area, as well.
Below we list and describe over 40 vendors who regularly attend or have attended the Guildford Farmers' Market with websites and contact details where applicable. If you are a regular vendor at the Guildford Farmers' Market and would like to be listed below but are not currently, please send us an email with your details and we will happily add you!
Vendors at the Guildford Farmers' Market:
Biltong Demon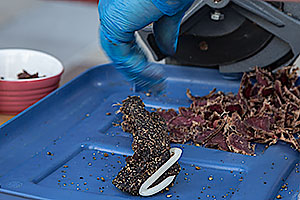 Biltong is naturally preserved meat, in this case slices of finest silverside from locally reared New Forest beef. After air drying in a South African drying cupboard, the meat is preserved only by the addition of salt; no other preservatives are used.
Although traditional biltong is just dried and preserved meat, Biltong Demon, as the name might suggest, have spiced up their offerings to include pepper biltong, garlic biltong and a fiery chilli biltong, all of which are sliced from the dried meat as you watch.
Based in Owslebury, Winchester, Biltong Demon are another local company providing an exotic food sourced from local ingredients. If you like their biltong and want more, but you can't wait a month for the next market, you can also purchase it from their website.
Web: www.biltongdemon.co.uk
Email: nickisutton@hotmail.com
Bookham & Harrison
This is a cheese stall offering award winning cheeses produced from their own milk. Their Sussex Charmer cheese won the gold medal at the Nantwich International Cheese Awards in 2014 for 'Best Modern British Cheese', the silver medal for 'Best Speciality Cheese' and the bronze medal for 'Best Hard Pressed Cheese'; quite a haul for one cheese!
In addition to their Sussex Charmer, they sell their Twineham Grange Cheese, unique for being the only British cheese of its type to be approved by the Vegetarian Society.
Their butter, Southdowns Butter, is produced from traditionally churned cream, and has won Gold at the Great Taste Awards for six consecutive years.
Web: www.bookhams.com
Email: rob@bookhams.com
Tel: 01403 339 150
Celtic Bakers
Although Celtic Bakers are based in an old factory in London, that is the extent of their association with mass production. They actually produce environmentally friendly, organic breads, using local and fair trade sourced ingredients whenever possible. They use traditional recipes and baking methods, including stone ovens, to produce breads and cakes that look and taste as you imagine they should be. This is not steam-baked and plastic wrapped produce; it's freshly baked and wholesome bread, cakes, pastries, mouth-watering croissants and Eccles cakes, all with the homemade touch.
In addition to their traditional breads, Celtic Bakers also produce a range of wheat free and yeast free breads to meet specific dietary requirements.
Web: www.celticbakers.co.uk
Email: sales@thecelticbakers.co.uk
Tel: 0208 889 7159
Collaroy Farm
The Collaroy Farm stall specialises in fresh eggs straight from the farm. Most of their eggs are sold within less than 24 hours of being laid, and they are never more than 48 hours old. This means that their eggs are considerably fresher than the majority of the supermarket alternatives. Between them, Paul and Sheila Flashman look after 6,000 free-range hens laying around 5,000 eggs per day, enabling them to offer a wide selection of sizes. Whether you prefer your eggs to be extra small, extra large, or something in-between, they will have them on the stall.
Country Markets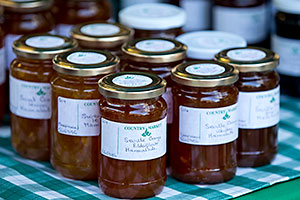 Country Markets sell an impressive range of homemade preserves, flowers, baked goods, craft items and fruit and vegetables. What's on offer is partly dependant on what is in season and on the availability of locally sourced ingredients, but many products, such as their marmalades, are available throughout the year.
They always try to locally source as many ingredients as possible to keep their environmental impact low, and to maintain links between the products and the local area. Everything is homemade and, that means actually made by their members, in their own home kitchens.
Just because their products are made at home doesn't exempt them from meeting the exacting health and hygiene standards set out for commercial operations. Every one of their family kitchens has been assessed and either meets or exceeds Government standards. Produce from Country Markets is not only delicious, it is local and homemade, and it is also produced to the very highest food hygiene standards.
Web: www.country-markets.co.uk
Email: info@country-markets.co.uk
Tel: 01246 261 508 (National Enquiry Number)
Craft Romania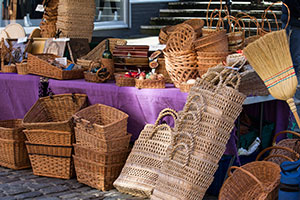 This large stall specialises in environmentally sustainable willow basketry , weaving, and wood-based crafts from the Transylvanian region of Romania. It's run by Phil Slade who, after living in the region for three years, decided that the villagers' remarkable craft skills warranted a wider audience, and began importing items to sell in Farmers' markets.
With ethical trading at its heart, Craft Romania now offers a wealth of beautiful products for sale, whilst also providing a much needed source of fair trade income for the people of the Székely region of Romania.
The raw materials used in their products are grown in an environmentally sound and sustainable way, and the willow and corn used for basket work is produced in the villagers local area.
The range of basket work is remarkable, from chairs and large trugs through to picnic baskets, wine bottle holders and even willow potato hoppers. There are traditional corn brooms, carpet beaters, wooden trays, jewellery, and even back massagers, all of them hand-made and ethically sourced.
Web: http://www.fairtradedbaskets.co.uk
Email: phil@craftuk.biz
Tel: 01932 860 271
FA Secrett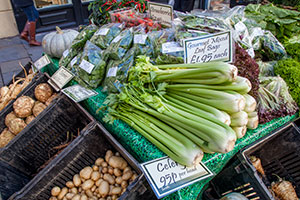 Better known simply as Secretts, this company have been growing quality vegetables and salad in Surrey since 1908. The stall offers an impressive range of fresh produce, grow on their own Milford farm, and sold at competitive rates. The produce is high-quality, freshly picked, seasonal and attractively displayed, with boxes of vegetables laid out in the style of traditional grocers' stall.
If you miss the stall, you can buy these and other products products from their farm shop or, when the season is right, pick your own at their Milford farm.
Web: www.secretts.co.uk
Tel: 01483 520 500
Facing Heaven Food Co.
Set up thirteen years ago by Jeremy Green, Facing Heaven Food Company are a catering company specialising in paella. Using their own enormous paella pans, each of which can hold enough food to feed three hundred people, they can provide food for events anywhere in the South of England, providing a maximum of 1,500 covers.
The stall features several paella pans in which the chefs cook mouth-watering dishes from scratch. Ingredients are sourced locally whenever possible, and everything is as ethical as they can make it; that means, among other things, a commitment to using free-range meat and sustainably-sourced fish and seafood.
The smells from the cooking paella pervade this section of the market, but unfortunately you might smell the food and become tempted long before it is ready to serve. However, if you take a gentle stroll around the market and return a little later when it is cooked, you are in for a real treat.
Web: www.faceingheaven.co.uk/
Email: sales@facingheaven.co.uk
Tel: 01252 213 220
Fired Creations
Angela Jenkinson is the woman behind Fired Creations, producers of hand-crafted dichroic and art glass jewellery and accessories. Angela works from her home studio, cutting and fusing together pieces of glass to create visually stunning works, ranging from wall hangings through to stud earrings and cufflinks.
Her work is available in several local shops as well as from her stall in the market. The stall is awash with items that would make ideal presents or be a personal indulgence.
All of Angela's creations are hand-made, so each item is unique. If you see something you love, but you don't buy it, then you might miss out; there won't be a box of identical ones under the counter. However, don't fret too much because, as she says, 'it is usually impossible to repeat a design, but I may be able to make something similar, and commissions are welcome.'
Web: http://firedcreations.co.uk
Email: info@firedcreations.co.uk
Tel: 07515 903 217
Fox Earth Tree Services
Fox Earth provide services relating to all aspects of tree management, from planting to felling. They will also undertake woodland projects including the creation of rides and tracks, and the eradication of invasive laurel and rhododendron.
They operate across the South of England, taking on corporate and private work. All their work is carried out to British Standard requirements, is completed by qualified staff, and they are backed by £10 million of liability insurance.
Whether you have a hedge that needs lowering, a stump to remove, or a tree needing surgery, they are happy to discuss your needs and provide a quote based on the requirements of the job.
Web: www.fox-earth.co.uk
Email: enq@fox-earth.co.uk
Tel: 01903 610 086
Fruity Foods
Gary Hill launched Fruity Foods in 2009, making conserves from locally sourced ingredients. Fruity Foods still specialises in quality conserves, producing chutneys, marmalades, sauces and jams. Their ingredients are still locally sourced too, with everything produced in small batches, by hand. Consequently the entire production process is carefully monitored and controlled. When a little extra setting help is required, they use only pure apple pectin, a natural setting-agent, and never contaminate their products with an artificial alternative. Their marmalade has been stocked by Fortnum & Mason, but it's easier to just buy it from their stall.
Web: www.fruityfoods.co.uk
Email: fruityfoods@live.co.uk
Tel: 07859 0431 213
Guildford Borough Council
This stall offers free advice on energy saving at home. There are advice leaflets on all areas of energy saving, from solar water heating and home insulation to eco-living and Green Deal assessments. Staff can also provide advice on practical energy-saving issues such as the best lightbulbs to use, the differences between dimmable and non-dimmable LED replacement bulbs and how to improve the efficiency of your radiators.
Web: www.guildford.gov.uk
Tel: 01483 505 050
Guts
GUTS is a registered charity that aims to improve the survival rate of people with bowel cancer in the South East of England, and their work directly funds the Colorectal Cancer Family Clinic at the Royal Surrey County Hospital. The stall offers information leaflets and newsletters, and a selection of GUTS branded merchandise including brightly-coloured tea towels, china piggy banks, painting kits for children to decorate their own piggy banks, and children's T-shirts.
Web: www.gutsfbc.co.uk
Email: nerissa.deeks@nhs.net
Tel: 01483 408 316
Hampshire Game
Hampshire Game, from Pollards Farm in Andover, have been supplying game birds, rabbits, hares and venison for over thirty years. Their birds include pheasants, partridge, pigeon (all whole and as breasts) and mallard ducks.
Venison is available ready butchered as haunch, saddles and shoulders, or further processed into diced venison, steaks, sausages and burgers.
The stall also sells a pre-mixed filling so you can bake your own game pies.
Web: www.hampshiregame.co.uk
Email: sales@hampshiregame.co.uk
Tel: 01264 730 339
Harvey's Farm Supplies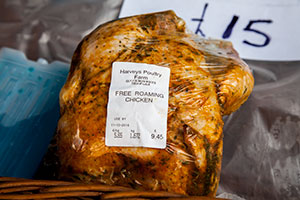 Harvey's Farm Supplies, run by Mr and Mrs Harvey, are local poultry specialists who offer a variety of birds and, unlike some supermarkets, use no pork fat whatsoever in cooking of their products. They believe that the best flavours are produced when the bird is cooked in its own juices; turkey is cooked in turkey fat, ducks in duck fat and so on, so all the flavours of the bird are preserved.
On offer you will find free range ducks, ducks with garlic butter, free range chickens, turkey sausages, turkey and garlic sausages, and even turkey curry. Hot food, cooked at the stall, is also available.
Tel: 01403 790 023
Hogs Back Brewery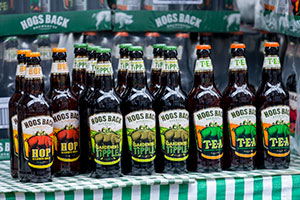 Hogs Back Brewery is an independent brewery, based in Tongham, just off the Hogs Back between Guildford and Farnham. The stall sells a good selection of their brews, including T.E.A, Hazy Hog cider, Gardener's Tipple and the distinctive Hogs Back Chocolate Lager. Beers and ciders are available in single bottles and as bulk-buy cases. In addition to the beers, the stall sells Hogs Back branded items, including glasses and mugs.
If you get hooked on their brews, you can also visit the brewery shop and go on a tour of the brewery itself.
Web: www.hogsback.co.uk
Email: enquiries@hogsback.co.uk
Tel: 01252 783 000
Hunts Hill Farm
John and Georgina Emerson from Normandy run the Hunts Hill Farm stall, specialising in free-range meat and poultry. All their meat is traditionally reared, and the stall offers beef, pork sausages and bacon, lamb, goat, veal, eggs and Christmas poultry.
Tel: 01483 811 840
Imbhams Farm Granary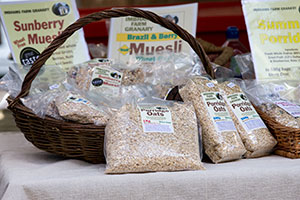 Based in Haslemere, Imbhams produce freshly milled and baked whole cereal grains, which they turn into breakfast cereals, flour and break mixes.
Their range of breakfast cereals include Summer Porridge, Brazil & Berry Muesli, Sunberry Muesli, Cranberry Porridge and traditional rolled oat porridge.
Flours and bread mixes include spelt, barley, wheat, polenta, rye, Surrey six-seed and maze flours, whilst bread mixes include the usual flour mixes as well as interesting variations such as gingerbread, soda bread, Sussex wheat and oat, cornbread and pizza mix.
All flours, breakfast cereals and bread mixes are pre-packed.
Web: www.imbhamsfarmgranary.co.uk
Email: sales@imbhamsfarmgranary.co.uk
Tel: 01428 642 945
Kokoh Chocolate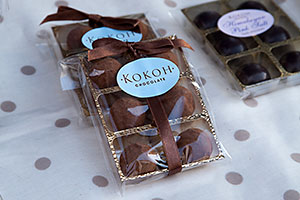 Joanna Marshall's stall is devoted to her award-winning handmade chocolates, produced in the Surrey Hills. She uses only the finest chocolate and entirely natural ingredients, shunning anything artificial or bland. The resultant chocolates aren't just delicious, they are also ethically sourced, locally produced and as good for you as chocolate is ever going to get. There are elegantly wrapped bars of chocolate, with flavours such as Sicilian Orange, Himalayan Pink Salt and Wattleseed and Hazelnut, and there are chocolate truffles too, sold in bags of six.
Web: www.facebook.com/pages/Kokoh-Chocolate/366387026788323
Tel: 01483 275 196
Lallapolosa Baking Company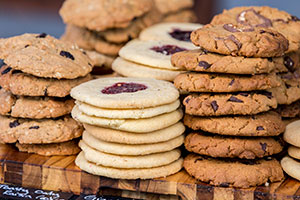 Lallapolosa (it means something special of its kind, if you were wondering) is a specialist baking company established by husband and wife team, Adam and Elyse. Based in London, they produce all those baked goods that you know you shouldn't eat, but that you crave anyway; brownies, cookies, cakes and confections.
Although it's a young company, Lallapolosa has already gained awards in recognition of the high quality, excellent taste and presentation of its products, including a 3 Gold Star Great Taste Award.
Because their delicacies are home-made, from the best available ingredients, every stage of production can be tackled with care and attention to detail, resulting in high standards that Elyse and Adam claim reflect the very best in taste and presentation.
Their range certainly looks mouth-wateringly good. Don't think of a single tray of brownies, they have ten different varieties of brownies, and the cookies are just as varied.
Lallpolosa'a kitchens were last inspected in June 2014 and were rated "excellent" for equipment, hygiene and safety.
Web: www.lallapolosabaking.co.uk
Le Range Mesurier
Founded in 2008 by Patrick Le Mesurier, an award-winning chef, Le Range Mesurier is a collection of condiments, side sauces, mustards, chutneys and relishes. Patrick has used his own recipes for the range, developed after extensive research and testing throughout his career as an international chef.
The range of Le Mesurier condiments, including mayonnaises, sauces and relishes, can be purchased from the stall. You can also buy them, individually or in hampers and gift bags, from their website.
Web: www.lemesuriers.com
Email: sales@lemesuriers.com
Tel: 01483 527 992
Larinka Apiary
Larinka Apiaries supply a selection of bee-based products, rather than just the honey you might expect. Karin Lauritzen, whose eighty or so hives are located in Liphook, produces honey, honey sweets, honey marmalade, multi-coloured bees wax candles, bees wax, vinegar, honey mustard, honey chutney and even nuts in honey. She doesn't mange the bees intensively, and the hives are carefully sited so the bees can forage on a wide range of plants, giving the honey a distinctive flavour.
Email: karin@lauritzen.plus.com
Tel: 01428 723 859
Mayfield Lavender
A family business run by Lorna and Brendan, and located in Banstead ,on the North Downs. They grown their own organic and Soil Association certified lavender on an original Victorian lavender field covering 25 acres. Three varieties of lavender are grown on the farm, Folgate, Maillette and Grosso.
The essential oils from the harvested flowers are distilled and turned into a range of products, from oils and fragrance kits through to bath and body lotions. For those who just want the flowers, bunches of dried lavender are also available. The farm is open daily from 1st June to 31st August and visitors can purchase items at the stall, at the farm, or online.
Web: www.mayfieldlavender.com
Email: info@mayfieldlavender.com
Tel: 07503 877 707
Meadow View Nursery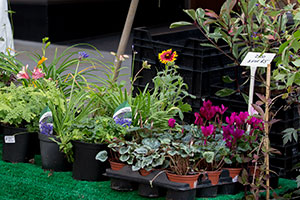 The stall offers a variety of potted plants, from damp-loving garden ferns through to brightly coloured cyclamen for the kitchen window sill. The plants are in top condition, and the stall holders are not only highly experienced and knowledgeable but also more than happy to share their experience and offer advice on plants and planting.
If you require plants before the monthly market day, visit the online side of their business supplying Peonies and Heuchera via their main website. Meadow View Nursery also supply plants, shrubs and trees to commercial and amenity projects, so they can help even if you need to create an entire garden from scratch.
Web: www.meadowviewnursery.co.uk
Tel: 01932 988 631
National Trust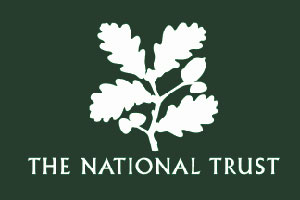 Selling memberships and offering a range of leaflets about local NT properties, including Claremont, Ham House, Polesden Lacy and Winkworth.
Web: www.nationaltrust.org.uk
Email: enquiries@nationaltrust.org.uk
Tel: 0844 800 1895 or 0344 800 1895 (local call rates apply)
Oakleaf
Oakleaf is the only charity in Surrey to provide vocational training and support for people suffering from mental health issues. Their stall offers information about the charity and their activities, and demonstrations of furniture upholstering, one of the vocational skills they provide. They also have a small range of items for sale including cards, fridge magnets, needle cases and notebooks.
If you have items that require reupholstering, Oakleaf can undertake the work to professional standards at highly competitive rates. Just ask for information.
Web: www.oakleaf-enterprise.org
Email: info@oakleaf-enterprise.org
Tel: 01483 303 649
Olives and Things
Jeremy offers an impressive array of freshly prepared olives in an equally impressive assortment of marinades of his own creation. Everything is sold in eco-friendly compostable pots, either large or small, according to your needs.
According to Jeremy, his olives have found favour with a number of well known celebrity customers, as well as being popular at several local markets. Delights on offer when I visited included Kalamata, Pitted Black, Garlic, and Chilli stuffed olives. Like all the stalls in the Guildford Market, Jeremy's business is a local one, based at Whites Hill near Winchester.
Email: jeremyphillips100@hotmail.com
Tel: 01962 777 770
PC Stovold and Son
The Stovold family have been farming in West Surrey for well over 100 years, and run a highly respected farm with one of the most renowned beef herds in the UK. In addition to their Aberdeen Angus beef, they also farm rare-breed Saddleback pork and Surrey Hills lamb and mutton. The farm has won awards for the conservation work it has undertaken, has been recognised for its high environmental and animal welfare standards.
Consequently, their meat is guaranteed to be free-range, free from GM, hormones, growth promoters and antibiotics.
Their beef is reckoned to be amongst the best available, part of that quality coming from the high standards of butchery insisted upon by the company. Beef is subjected to long-term hanging, and the butchery is carried out by a Q Guild butcher, one of only 120 in the country.
Web: www.aberdeenangus.co.uk/index.htm
Email: info@aberdeenangus.co.uk
Tel: 01483 811 814
Pepperpot Nursery (Surrey Hills)
Neil, the man behind Pepperpot Nursery, has over 30 years experience in the horticulture industry. He established the Pepperpot Nursery in 1998 to supply quality herb plants to garden centres throughout the South East . Named after the Pepperpot building in Godalming, where the business began, the herbs are still grown locally, although the nursery is actually on a green field site in Tilford, close to Farnham. (The plant pot labels are marked with their "Surrey Hills" branding if you are wondering about the double name.) They still supply garden centres, but they also supply directly to the public via Farmers' Markets, their online mail-order service, and at Garden Shows.
The range of herbs on offer may vary throughout the year simply because they are grown here, under local conditions. They don't use artificial lighting or heating, so the available stock depends on the time of year and the weather. A huge advantage of this is that their potted herbs can be planted directly into your herb garden, as they are used to the Guildford climate. Of course, if you prefer, the plants can be kept on a windowsill in the kitchen, but remember to turn them frequently so they get even exposure to the light.
Web: www.pepperpotherbplants.co.uk
Email: info@pepperpotherbplants.co.uk
Tel: 01483 424 614
Perry Court Farm
Perry Court Farm, situated in the Kentish Stour Valley, has been in the same family for three generations. The farm produces in excess of 200 different crops, using a mix of traditional farming skills and modern technology to make the process as environmentally friendly as possible.
Among their crops are many varieties of apples and pears; their stall carries a good representative selection of them. Fruit can be bought by the 1Kg bag, and samples are available if you aren't yet sure which variety to buy. Their own fruit-based products, including bottled apple juice and air-dried fruit crisps are also available, as are hazel nuts when in season.
In addition to the fruit, the stall sells a good range of vegetables, including potatoes, sweet corn , assorted greens and fresh herbs.
Web: www.perrycourtfarm.co.uk
Email: info@perrycourtfarm.co.uk
Tel: 01233 812 302
Pimpernel Fisheries of Salcombe
Although entitled "of Salcombe", Pimpernel Fisheries is actually a local business, based in Weybridge, that sources their fresh fish and shellfish from Salcombe in Devon.
The couple behind the stall, Gill and Kevin, offer fish and shellfish that are either fresh off the Salcombe day boats, or have been freshly cooked for you. Alongside the sea fish, the stall offers clam muscles, oysters, lobsters and crabs.
Web: https://sites.google.com/site/pimpernelfisheries
Email: gillbacon@yahoo.co.uk
Tel: 07956 434 683
Ringden Farm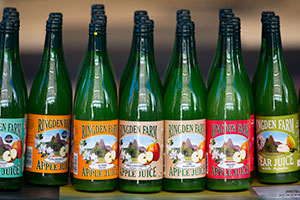 Ringden Farm, located on the Kent / Sussex border, has been growing apples, pears, plums, quinces and medlars since their orchards were established in 1949. They grow over thirty varieties of apple alone, from which they produce their own bottled juice.
Their stall offers a wide range of their bottled juices but, instead of offering a generic apple juice, they offer specific varieties, including Bramley Dry, Discovery Medium Dry and Cox/Bramley Medium. There are also mixed fruit juices such as Apple and Elderflower and Apple with Plum and the slightly more unusual combinations of Apple with Mango and Apple with Rhubarb.
Additionally, the stall offers bottled cider, fresh apples to eat and large bags of apples as the main ingredient of your own homemade juices.
Web: www.ringdenfarm.co.uk
Email: sales@ringdenfarm.co.uk
Tel: 01580 879 385
RSPB
Selling memberships, their own magazines and a limited range of RSPB merchandise.
Web: www.rspb.org.uk
Tel: 01273 775 333 – South East Regional Office (Open Mon-Fri 9am-5.15pm)
Selborne Pottery
Selborne Pottery, established by Robert Goldsmith in 1985, is located in the Hampshire village of Selborne, known for its association with Gilbert White the naturalist and Capt. Oates, of South Pole fame.
The pottery produces hand-thrown and turned stoneware products, that are hand decorated in rich cobalt blue and copper red glazes. Everything is done by hand, from throwing pots to mixing the glazes, each process is based on traditional skills that take years to learn, and even longer to master. The wares displayed in this stand, whether they are vases, teapots or plates were all hand thrown by experts, without the use of moulds, premixed glazes or stick-on transfer patterns. Consequently, although items in the same range look similar, no two are ever identical; each is a unique item.
The stall carries a good range of their products, including cream jugs, tea pots, bowls, lamp bases, mugs, vases and plates. If they don't have what you want, you can visit the pottery shop or commission one-off items.
Web: http://selbornepottery.co.uk
Email: sales@selbornepottery.co.uk
Tel: 01420 511 413
Slindon Bakery
In terms of being well-established, Slindon Bakery has no problems, with records dating back to the mid sixteenth century, although there are a few gaps in the records. Twenty-five years ago, Andrew and Anne Turner-Cross got the bakery going again, in the original Slindon village bake house, and the company has developed rapidly ever since. Although the bakery's success has required an expansion into more modern premises, their commitment to traditional methods and quality produce has remained unchanged.
The bakery's success is based on the simple principles of using locally grown ingredients whenever possible, making everything by hand, and always maintaining the highest standards and levels of expertise.
The stall offers varieties of bread and rolls that range from the common, such as small granary and a large white farmhouse, through to the exotic, including olive ciabatta, walnut loaf and Roman spelt. Additionally, there are assorted buns and scones from which to choose. The stall centre-piece is an impressive sheaf of wheat, complete with mice, made entirely from bread dough.
Web: www.slindonbakery.com
Email: info@slindonbakery.co.uk
Tel: 01903 732 244
Stratta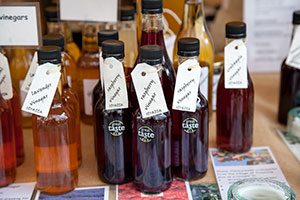 Stratta is a husband and wife team, producing fine fruit vinegars, oils and preserves from their home in East Sussex. Mary founded the company in 2004 and did so well that John joined the business a year later to help cope with the high demand for their products.
Their stall offers a delightful array of vinegars, although the universal and amorphous 'malt' isn't one of them. Instead, Stratta offer exotic vinegars with a white vinegar base. They soak soft fruits or aromatic flowers in a white vinegar base until the full flavours and colours are extracted, the liquid is filtered, sweetened with natural cane sugar, and then bottled at high temperature to ensure that it has a good shelf life.
Among their exotic vinegars are raspberry, lavender, rich fig, garlic, elderflower, mint, gooseberry and cherry flavours, and more are being added all the time. In all, there are at least thirty different flavours to try!
In addition to the vinegars thy produce a dozen different infused olive oils and an eclectic range of preserves including spiced Sussex pears, and sea-salt preserved lemons.
Web: www.stratta.org
Email: stratta@btinternet.com
Tel: 01323 732 505
Sussex Gold
Sussex Gold grow rape on their own farm in the Weald of Sussex, and began producing the finest quality rapeseed oil in July 2007. Unlike some companies that deal only with part of the process, Sussex Gold handle the entire process from planting the rape, through harvesting , cold pressing the seeds and bottling the extracted oils.
Their extra-virgin rapeseed oil contains half the saturated fats of olive oil, is a source of natural vitamin E and contains no artificial preservatives. In addition to the pure oil, they also sell a range of oil-based products including sauces, dressings and mayonnaise, and flavoured oils such as their distinctive oak-smoked, chilli, rosemary and thyme rapeseed oils.
Oils, dressings and mayonnaise are all available in attractive glass bottles and jars.
Web: www.sussexgold.co.uk
Email: info@sussexgold.co.uk
Tel: 01403 713 579
Sussex Smokers
The Sussex Smokers stall, run by Julia and Vincent, sells smoke-preserved meats. There are sausages with exotic ingredients such as wild boar with cider and mace, burgers with venison and onion, sea foods such as smoked kippers, mussels and eels, smoked birds including duck, grouse, pheasant and partridge and a huge list of other products ranging from venison haunch steaks through to streaky bacon.
There are samples available so you can test the more exotic products before you buy, and both Julia and Vincent are more than willing to talk you through their products, the smoking process and answer any questions about their products.
Web: www.sussexsmokers.org.uk
Email: vjgame@sussexsmokers.org.uk
Tel: 01424 883 060
The Garlic Farm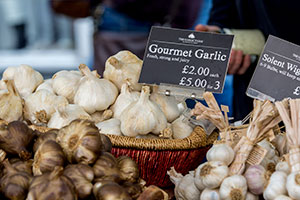 The Garlic Farm stall is the Market's main destination for garlic lovers. Their bulbs are all grown and dried at their farm in Newchurch on the Isle of Wight, and it's from there that the team travel every month to be at the market.
In addition to a good variety of different dried and smoked garlic bulbs, the Garlic Farm also produce seed garlic for home planting, garlic flavoured rapeseed and olive oils, garlic puree, sauces, garlic cheese, even garlic flavoured pork scratching and biltong.
Not only can buy anything from a single garlic bulb through to an entire presentation pack of them, you can also specify the variety of garlic you prefer. Amongst the varieties on offer are Jumbo Elephant, Solent Wight, Picardy, Lautrec, Tuscany and Vallelado.
Web: www.thegarlicfarm.co.uk
Email: enquiries@thegarlicfarm.co.uk
Tel: 01983 868 732
The Tomato Stall
Put simply, they sell tomatoes grown on their farm, located on the Isle of Wight. However, it's not quite that simple as the tomatoes they sell far exceed the limited range offered in a typical supermarket.
There are the well-known varieties such as Beef and classic large vine tomatoes, but they sit alongside less well known beautifully striped and aptly named Red and Green Tiger varieties. There are round ones, including Golden Cocktail, long tubular ones such as San Manzano, and even pumpkin shape Marmonde tomatoes. The colours vary almost as widely, with traditional reds and oranges, through yellows, variegated green, stripes of red and green, and even the occasional chocolate brown fruits in amongst the others.
If you aren't sure which variety to buy, they will offer advice and let you try some samples before you buy.
Web: www.thetomatostall.co.uk
Email: hello@thetomatostall.co.uk
Tel: 01983 866 907
Tigerspring Tea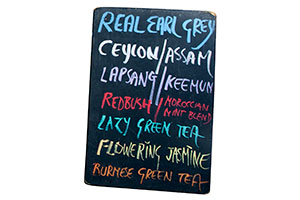 Tigerspring Tea is an independent, family run business, that specialises in loose tea and tea-drinking paraphernalia, such as tea pots, strainers, books and tea tins. They are also one of the few places where you can buy a replacement teapot handle!
If the name sounds familiar, it's because the company was named after the famous Tiger Spring in China, claimed to be the source of the very best water for making tea.
You can buy their tea loose, selecting from a range of over thirty varieties of White, Green, Oolong, Black, Redbush and Flowering teas. They also sell special blends and herbal infusions.
As part of their efforts to be kind to the planet they welcome customers who bring back their old tea packaging for re-use, and those who bring their own containers, which they will fill with the quantity of tea you require. If you miss the stall, you can also order their teas online via their website.
Web: www.tigerspringtea.co.uk
Email: info@tigerspringtea.co.uk
Tel: 020 8405 0609
Traidcraft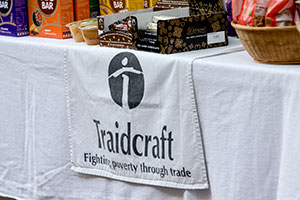 Traidcraft sell a mix of fairly traded goods, including Geo Bars, that's a muesli-based health bar, dried fruit pieces, environmentally sound cleaning products, white and dark chocolate, tea, coffee, Palestinian Za'atar, and even gardening gloves.
Their mission is to fight poverty through trading in a way that helps people in developing countries; that means that their products were bought fairly, and that their profits go back into the project. The profits from the Guildford stall help towards the construction and maintenance of a school in Uganda.
Web: www.traidcraft.co.uk
Tel: 01914 910 591
West Fisher Winery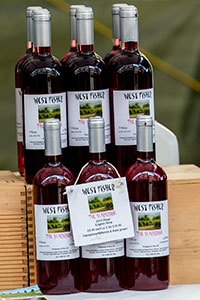 West Fisher is the smallest commercial winery in the UK, based in Chelsham, Kent. Their grapes are sourced from vineyards across Surrey, Hampshire, Kent and Wiltshire. Although they are currently producing just 5,000 bottles per year you'd not know it when you see the range of Pinot Noir, Rosé, Carnival, Festival and Tudor 2010 bottles on their stall.
In addition to their wines, they also produce a limited amount of Kentish cider ( the bottles have a distinctive coiled up blue serpent on the label) and an range of Vodka liqueurs that include raspberry, plum, peach, lemon and blackcurrant varieties. Whilst the wines are available in standard bottles, the vodka liqueurs come in 50ml and larger 250ml bottles. Cider comes in somewhat larger portions; 500ml bottles and two pint take-away cartons.
Web: www.westfisher.co.uk
Email: info@westfisher.co.uk
Tel: 01883 621 364
Wrights Original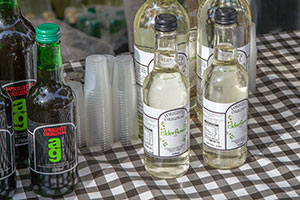 If you are a fan of ginger, and ginger drinks in particular, then this is the stall you need to visit. Wrights produce what they call 'traditional drinks' and some of their recipes can be traced back to the 1800's. Today the entire process of production and bottling is all handled by Wrights, working from their base in Oxted, Surrey.
Ginger features strongly in most of their beverages, with their 'Wrights Original Dark Ginger' being a firm favourite amongst the stall's customers. For those who prefer something different, try their apple and ginger drink, logically enough called "ag", or perhaps one of their non-ginger beverages such as Elderflower or Lemon.
Web: www.wrightsoriginal.com
Email: john_wright24@btinternet.com
Tel: 01883 724 975