There are two outdoor farmers' markets in Guildford, which offer an array of freshly grown produce from local growers and vendors, as well as other speciality items. From freshly baked breads, plump vegetables and fruit, to hand-made jewellery and leather handbags, these are great places to pick up the freshest of ingredients, whilst simultaneously supporting the local community.
The Guildford Farmers' Market takes place on the first Tuesday of each month from approximately 10.30am to 3.30pm in the centre of town on the High Street. The market proudly presents over 40 different local vendors with a great selection of goods offered. Hand-crafted pottery, oils and vinegars, speciality meats and cheeses, wines and teas, home-made sauces and honey are just some of the items you'll find at this extensive market.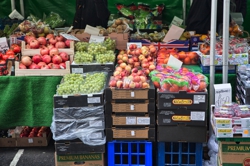 The North Street occurs regularly every Friday and Saturday holding similar hours to the shops along North Street in the centre of town. The market tends to have about 20 vendors that offer goods, such as fresh produce, like fruits and vegetables.